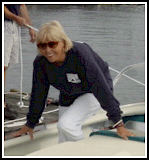 Owner, broker Constance Trolle has lived on bantam lake as a summer resident all her life. She lives on the lake full time and is very active in the community.

Constance is currently is the president of the bantam lake protective association, a commissioner on the inland-wetlands commission, a director of the deer island association board of directors and volunteers her time for the town of Morris.

Most recently as co-chair of the Morris town center vision task force with responsibility for the renovation of the town hall and landscape project. With her diverse background in construction and as a COO of a large manufacturing business, she brings an entrepreneurial expertise to her new company.